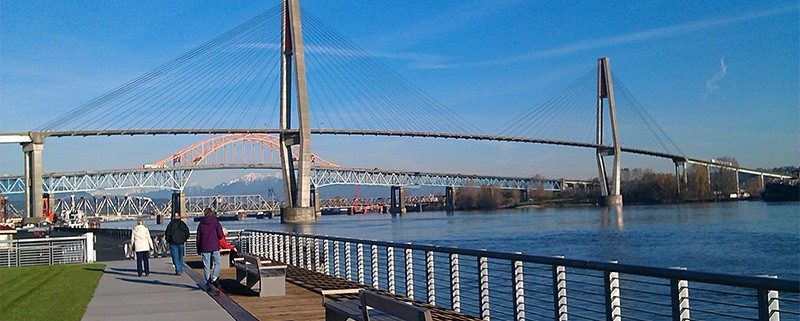 So, you're moving to the oldest city in Western Canada and the first capital of British Columbia. You may have one of two feelings: excitement or mild fear. The former because you're about to adventure into a new location, brimming with rich history, small-town charm, and an endless array of attractions to keep you busy. The latter might get you down because, in the midst of moving, you hadn't realized that moving to a new place means finding another place to buy coffee, another place to meet new people, and, of course, another place to get your teeth checked and cleaned! Thankfully, your search for a new dentist (and maybe even a new best friend) does not have to waste your time or test your sanity.
Fret not, you ambitious traveller, you. New Westminster is one of the best decisions you are ever going to make. What we strive to promote here in this city is a great sense of community that is liveable, spacious, and economically sustainable. Located on the bank of the Fraser River, "New West" (as we like to call it) is pretty to look at, too! Our general goal to promote a positive and culturally diverse environment with New Westminster has evidently trickled down to the dental talent we house here.
New Westminster dentists have everything you are looking for when trying to find a new dentist for yourself or your family. In fact, don't be surprised if they exceed your expectations on more than one occasion. When looking for a dentist, you want one that is up to date on the newest dental technology and procedures, you want one who is friendly; one you can approach easily with any and all questions, one that offers flexible and affordable payment plans, and, just maybe, one that's close to home.
At Sapperton Dental Clinic, we personally guarantee every single one of our New West dentists fit the bill in these regards. And with close to 100 dental clinics in the city and its immediate surrounding area, that's a big promise! We're not worried, though. From simple teeth cleaning to emergency dental surgery for children, you will always find what and who you need most in New Westminster. We're pleased to have you!
Looking for a dental office you can call home? Try one of these dental centres in British Columbia.
---
Meet Dr. Alex Rosenczweig. We are both clinical instructors at UBC in the Faculty of Dentistry.  He's not only a good dentist but also a good friend.
Dr. Alex operates a dental office in Vancouver, BC called Accord Dental, located in the Kitsilano area.  He took over Accord Dental in 2007 and has since made a reputable name for himself.  Although his dental office is fairly busy, he always welcomes new patients.
If you enjoy playing volleyball, swing by Kitsilano Beach and you just might see Dr. Alex there.  He's always up for a game.
Dr. Alex is a resident of Kitsilano and is on call for dental emergencies. He is known to be a caring and understanding dentist who puts his patients first.
Website: www.accorddental.ca
Address: 2385 W. 4th Ave (Kitsilano) Vancouver BC, V6K 1P2
---
The first dental office located in Central City Shopping Mall is Surrey Place Dental.  They are a group of dedicated dentists working out of Central City Shopping Mall.  You can get to us using public transit via Surrey Central Skytrain Station.
The team of dentists works closely with their patients to help them achieve the smile they've always wanted.  Their veteran dentists include Dr. Bhasker Thakore, Dr. Greg Chang and Dr. Joy Maru.  They also have some up-and-coming dentists such as Dr. Colin Loewen and Dr. Sarah Garbelya.
Surrey Place Dental has a solid foundation of both staff and dentists.  Come on by and check them out!
Website: www.surreyplacedental.com
Address: 2446 Central City Surrey V3T 2W1 Canada
---
The Dental Group at Central City just opened up another dental office about a year ago to make sure their patients can book dental appointments without having to wait long. For added convenience, their new dental clinic is located in the same building – Central City Shopping Mall – just upstairs from Surrey Place Dental.
The Dental Group at Central City is now entering its second year and has hired a few new dentists to handle the workload. Our newest additions include Dr. Steven Chang, Dr. Sarang Toosi , and Dr. Chris Shon.
Our new dental clinic is equipped with the latest in dental technology.  New X-ray machines, filtered water system, and much more.
Website: www.thedentalgroupatcentralcity.com/
Address: 112-1117 Central City Shopping Centre Surrey V3T 2W1
---
Dr. Sidhu leads the team here at My Dentist @ Boundary Park in Surrey, BC. He's very passionate and looks after both young and old. His dental office is located on 120th Street in Surrey and has been known to giveaway monthly Ipads to their patients.
Website: www.mydentistsurrey.ca
Address:  121-6350 120th St Surrey, BC V3X 1Y7
---
Let me introduce you to Dr. Joy Maru, a renown Dental Implant Specialist. He has placed over 1000's of dental implants. Patients come from all over North America to get their dental implants done by Dr. Maru.
Website: www.surreydentalimplants.ca
Address: 2446 Central City Surrey V3T 2W1 Canada
---
Dr. Dhir and his wife Dr. Sethi are both dentists who recently opened this dental clinic. They have the state-of-the-art dental equipment and are serious about getting you a better smile. They believe that with the knowledge, the right dental equipment, and the passion, you can help anyone achieve that smile they have always wanted.
Newest Dental Clinic in Delta
Delta Dental has already become the talk of the town for the amazing way they treat their clients. Still a relatively new clinic on the scene in Delta, B.C., the clinic is making serious headway as one of the top dental providers in the area. With a dream team of dental professionals, a wide range of services (including emergency), and a great location, you cannot go wrong choosing Delta.
Website: https://deltadentalbc.com
Address: 110-8295 120th Street, Delta, BC V4C 6R1
---
This is another dental clinic Dr. Dhir and his wife Dr. Sethi both own and operate. This dental clinic is located in Burnaby, BC. They believe that convenience is key for their patients. Whichever side of the bridge you live on, they have a dental clinic to serve you. They rather commute across the bridge than make their patients. That's how you know if your dentist actually cares.
Why Choose Bainbridge Dental?
Bainbridge Dental Clinic off Lougheed Hwy is unique and distinctive because we incorporate skill, experience and technology all in under one roof. The work of our highly-skilled dentists of varying disciplines of dentistry, coupled with the care and attention-to-detail ensures that each patient is treated like family. Our complete team of dental professional functions on the sole purpose of ensuring complete patient care and satisfaction and this passion is what sets us apart from other dental offices.
At Bainbridge Dental Office, our foundation lies in our ideology. We understand the complexities of dental problems and the absolute need to tackle them with utmost care, which is why our clinics consist of some of the most sought-after dentists in Burnaby, BC. We ensure that no stone is left unturned in providing our dental patients with the best healthcare possible.
Website: https://bainbridgedental.ca
Address: 2842 Bainbridge Ave (Off Lougheed Hwy), Burnaby, BC V5A 3W7
---
Star Dental on West Broadway
Star Dental has been apart of the Vancouver community for decades and has continued to strive even with all the new dental clinics popping up in the area. That's due to the amazing team they have at their Broadway St. location.
Star Dental: Our Mission
The name may have changed over the years, but Star Dental's landmark Fairmont Medical Building location has remained as constant as our dedication to providing quality dental care.
For over 25 years, we have strived to build and maintain long-term relationships with families and make a difference in our community. Our office is located in the central Fairmont Medical Building at West Broadway and Willow, in Vancouver's vibrant Fairview Slopes community. It is conveniently accessible by transit or car, located near the Canada Line train station and the B-Line route.
Website: www.stardentalwestbroadway.com
Address: 1215-750 W Broadway, Vancouver, BC V5Z 1J2, Canada
---
Sunrise Village Dental on East Hastings Street
Absolutely the most caring, huggable, honest dentist you can find in Vancouver. Dr. Vinay Dhir has been known to bend over backward for his patients. If you need a dentist who will work around your busy schedule, Dr. Dhir is your dentist.
Why Choose Sunrise Village Dental
Here in Sunrise Village Dental, our commitment is to go above and beyond at all times for our patients. Our Dentists and dental professionals achieve this by creating the most relaxing, least painful experience you have ever had at a dental office.
This means that everything we do is focused on putting our patients first, and making sure our patients always receive the best dental care and our undivided attention.
Website: www.stardentalwestbroadway.com
Address: 2538 E Hastings St, Vancouver, BC, Canada
---
EastVan Dental on Commercial Drive
Right in the heart of the Italian Community lies EastVan Dental. It's owned and operated by Dr. Alam who is a relatively new dentist, but nonetheless very competent dentist. He has an amazing support staff along with a one of the sweetest partner, Dr. Hunter. Together, you have nothing to worry about.
Why Choose EastVan Dental
East Van Dental Clinic in Vancouver is your go-to clinic for putting a smile on your face for everyone to see. We offer cosmetic and family dentistry, and place care and quality as most important for our patients. Combining the latest technology with experienced and caring dental professionals is a marriage made in heaven that will have you seeing fantastic results.
We are currently accepting new patients right now! Be sure to book an appointment for an Exam, where we will discuss your dental history, assess your cosmetic goals, and much more…
Website: www.eastvandental.com
Address: 2085 Commercial Drive, Vancouver, BC V5N 4B1
---
Milburn Dental Office
Another team of husband and wife dentists. Just recently opened their doors and they're averaging 50-80 new dental patients. They must be doing something right. If you live in Fresno, CA and are looking for a new dentist, you should hurry and become a patient at Milburn Dental before they close their doors for new patients.
Why Choose Milburn Dental
At Milburn Dental, nothing makes us happier than seeing you smile. Your smile is infectious; it puts one on everyone's face, including ours. That is because of the pride we take in offering the best and most up-to-date dental techniques from the most knowledgeable and caring professionals in the field. Best of all, it all happens in an environment that will actually make you want to come back and visit the dentist again!
Our state-of-the-art office is fully equipped for family, cosmetic, and general dentistry. Working alongside our dentists will ensure you and your family a positive dental care experience. We take pride in providing all our patients with exceptional dental care in a relaxing and friendly atmosphere.
Website: www.milburndental.com
Address: 6721 N Milburn Ave Ste 101, Fresno CA 93722
---
This team of talented and amazing designers, developers, and marketing geniuses have helped countless dental offices attain new patients. They work around the clock, making sure your website is plastered all over the internet. Don't miss out on another patient again, hire the Dentist Web Design Company.
Website: www.dentistwebdesign.ca
Address: Vancouver, BC
https://sappertondental.com/wp-content/uploads/2016/02/new-westminister-dentist.jpg
533
800
Sapperton Dental Clinic
https://sappertondental.com/wp-content/uploads/2018/03/new-westminster-dental-logo.png
Sapperton Dental Clinic
2016-02-28 14:34:55
2018-04-20 03:45:13
New to New Westminster, BC and looking for a dentist?